Designing a Beginner-Friendly Snow Sports Service for "Ye Are Here":
A UXR Case Study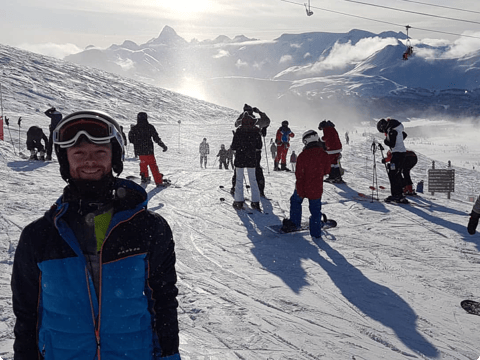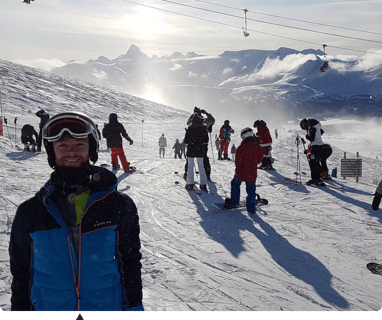 This is a case study for a freelance project that saw me researching the current experience of beginner snowboarders and skiers for my client, travel and fitness blog, "Ye Are Here". The project went through a few direction changes ultimately settling on a recommendation of a business idea that satisfies a niche in a market well suited to "Ye Are Here"'s initial business goal.
In order to get to this recommendation, I undertook qualitative research methods, such as market research, surveying user groups, in-depth Interviews of two kinds of user groups. Following the completion of this research, I then made a persona of our target user, and a journey map showing the current user journey prior to a solution. We then undertook an Ideation session to get initial ideas of solutions out there for "Ye Are Here"'s consideration.
After this "Ye Are Here" has the research, and initial research needed to take the design process further, and design a solution for implementation
When I started this project, John, my client came to me with the idea that he wanted to build a digital service as he had a particular set of expertise in the fitness and travel world. However, he was not yet aware of what he wanted to do, and he hired me to define the idea, the product and the market. This was the challenge with this project.
The world of snow sports, in this case snowboarding and skiing is one that people who take a liking to it, tend to get obsessed. Any person from a place like Ireland, a cold place in the winter but rarely snowy, who takes a liking to snow sports has quite the journey ahead of them in order to get to enjoy the sport. Travel into mainland Europe, or beyond is essential.

Even before that the initial preparation, experience building and lessons is limited to one "dry slope" in Kiltiernan, south Dublin. Any other prep must be done at home.

This idea for this project came from John McDonald of "Ye Are Here", a client who wanted to explore the world of Sports Tech. Being a fitness instructor, and winters sport and travel enthusiast, John came to me with an idea to consolidate his skills, and knowledge into a digital service, consisting of fitness plans, workout databases, beginner guides, and travel information.

After a few alterations to John initial idea, we ultimately decided to research problems within the beginner snowboarding and skiing space.
Define an idea, market and recommendation for a product.
Better understand the world of snow sports, and the steps required to be successful in it.
Understand the current experience of beginners in the snow sporting world.
Understand the needs of beginners in this space from fitness to equipment.
Learn their current pain points and frustrations and where they happen in the current journey.
To better understand the audience for this project
Present "Ye Are Here" with a recommendation of a solution that will improve beginners current experience.
To obtain my research, the methodologies used were;
Surveying the potential user base
2 rounds of In-depth Interviews
To obtain my research, the tools used were;
Onboarding meeting with John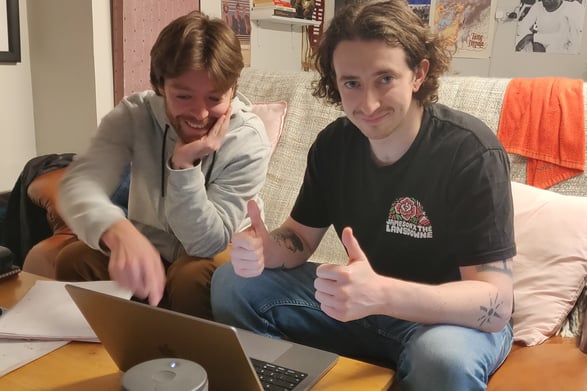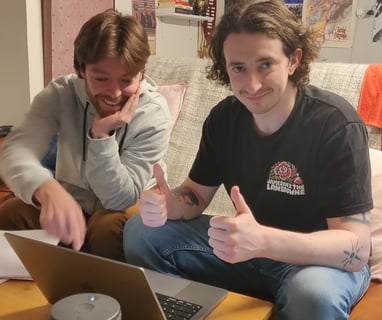 In our initial onboarding meeting, John and myself sat down and talked about his intentions with the project, he hoped to solve a problem for fellow travel and fitness enthusiasts. Unsure of a way to approach it, he reached out to me to research the problem. I got to work finding our initial problem we were to solve.
We had a quick look at the current market for travel and fitness apps. Finding many which solve a variety of different problems.




It was at this stage that I realised the scope for the project was very broad and therefore would be tricky to design for. I consulted my mentor, Renata Dima, who gave me the suggestion of narrowing the scope to users in winter sports solely.
Given this initial redirection, John and I wrote a survey looking for behavioural patterns. We needed to understand the wants and needs, our users of winter sports.


Sending it to various skiing Facebook groups, the SnowHead Forum, and various subreddits, we got 29 responses.
The insights I found were that...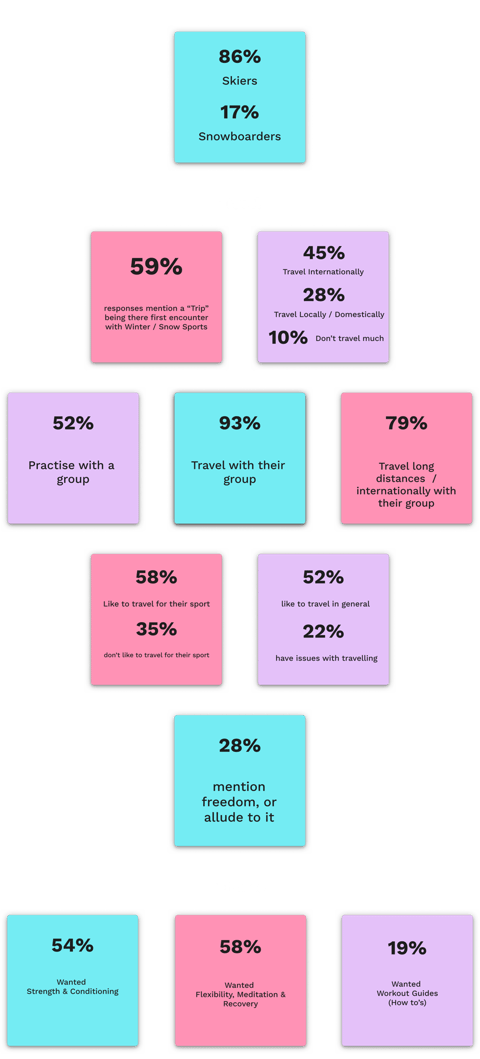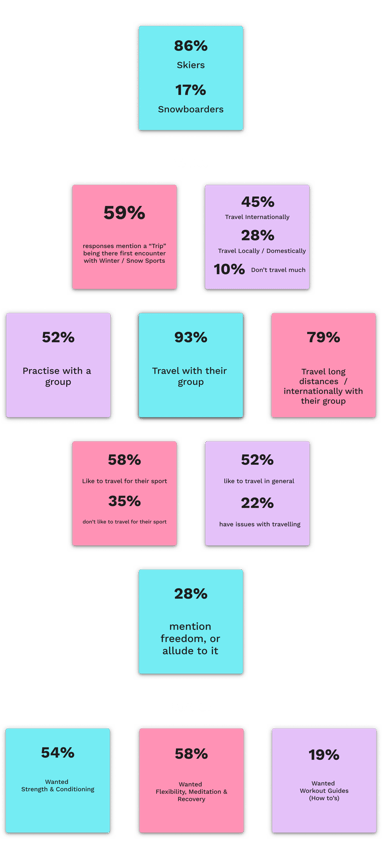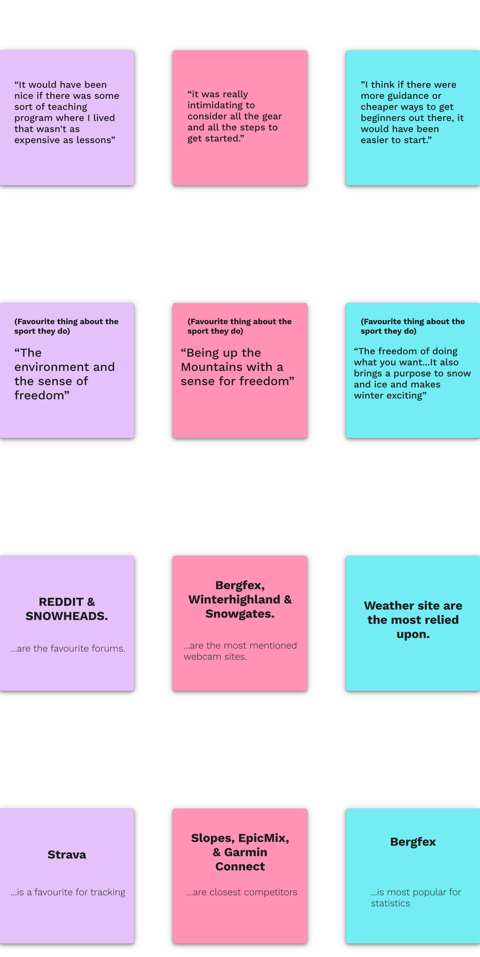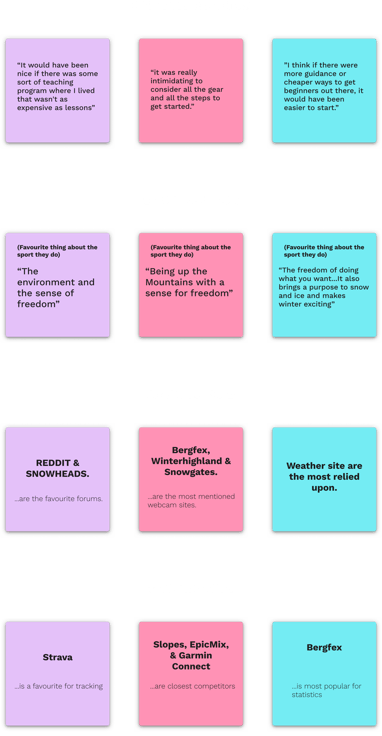 The most illuminating insight was the mention of the high barrier for entry into winter sports, users said how intimidating it can be to know the gear needed to use and that more guidance would make it easier for people to start. More on that later!
I took to find users in the world of snow sports, aiming to generate insights which I would use to refine my problem statement.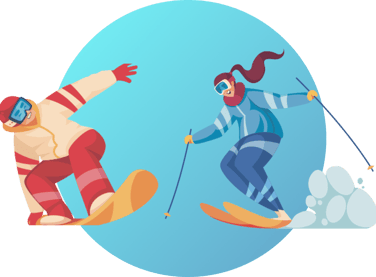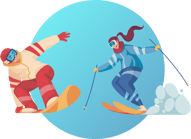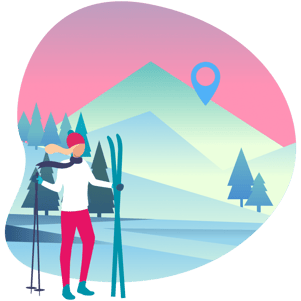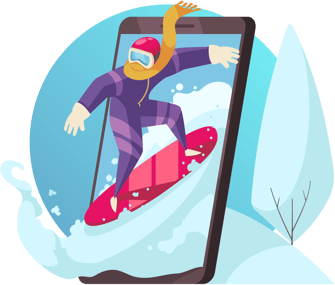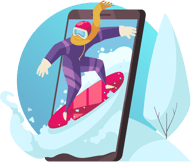 I want to learn the habits of people who take part in winter sports.

How much are users into the fitness & recovery side?
Do they have a natural inclination to travel due to their sports being more adventurous than others?

What is the relationship between travel and sports like with each interviewee?
What is the most used technology by the interviewees to help with their sports?

Where do users get info on their sport?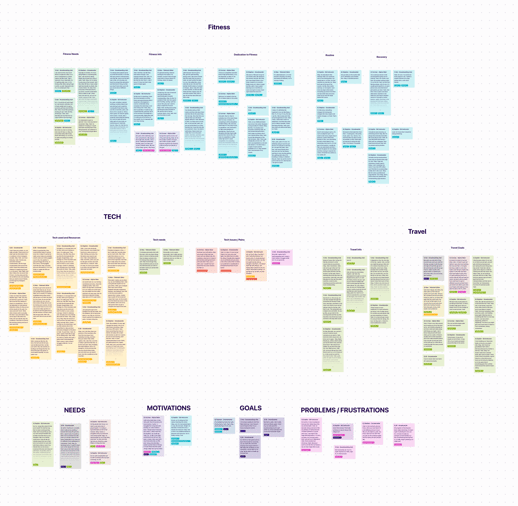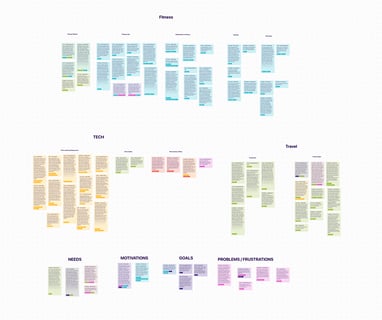 I interviewed
6
Snowboarders and Skiers
I then went over to Dovetail to analyse my interviews.
Highlights from the interviews, Affinity Map'd
The insights I found were that...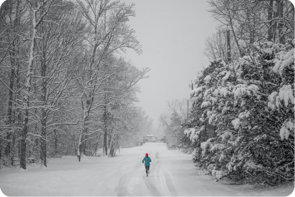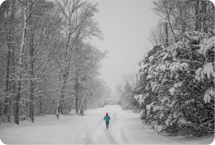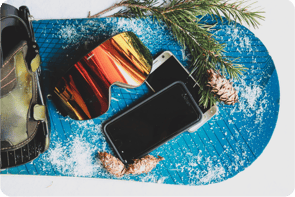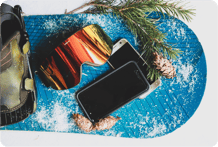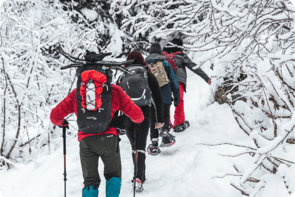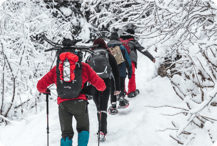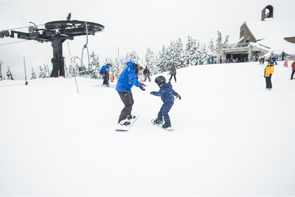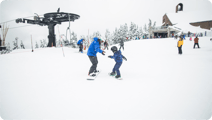 Fitness is the gateway to fulfilment
Simplicity in technology is most valued
Day trips are much needed
I had one other insight which I glossed over at the time...
One of my main insights gathered was an insight into the keen awareness of the fitness dedication needed for success in their sports.
Another was the fact that digital technology was not integral to each sport; most users used their sport as a getaway from the digital world.
Most users mentioned the importance of day trips on days off around the areas they were practising their sport.
The beginner to intermediate path is lacking
There was an insight brought up by a couple of the interviewed users about how the beginner to intermediate space is lacking.
More on that in just a moment!


I began to synthesise these insights into personas but was more so focused on the advanced users. It wasn't until Renata swooped in again to redirect me into seeing that the advanced users I was looking at have their needs (for the most part) covered.
The users with the real needs not being met were the beginners. Renata suggested to go back and interview beginners, and see exactly what the pain points are.
I began to enquire about the needs and pain points of beginners. It was hinted at my an interviewee from the first round that the beginner space was lacking. I began reaching out to beginners found via instagram tags, and Facebook searches, but the response was minimal, so minimal that not a single beginner got back to me interested in doing the interview. I changed my wording of the message I sent, which was much to the same silence.
This was disheartening, but I realised that, if I was a beginner at something I would not be so keen to talk with a stranger about my experience thus far. So, I changed up my approach again and reached out to snowboarding and skiing instructors, of which I found 4 willing participants.
Goals of round 2 of interviews
My goals for these interviews were;
Finding out what beginners need to succeed
What is the usual motivation for their trips?
What are some common beginner frustrations?
Where are they finding out about gear / what to do?
What is the general fitness level of beginners?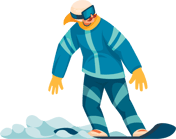 The general fitness levels of beginners who take lessons with instructors is either poor, or varied.
There are many sports activities that can help beginners better prepare for their time on the slopes.
Being an active person is far more likely to lead to success.
Beginner resources found online prior to lessons is usually misguided.
For example; Many YouTubers / Tutorials fail to mention clothes that are needed.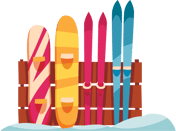 Mentality is key, and more important than equipment.
Many beginners compare themselves to others in the lessons, hurting their motivation.

There are many sports and activities that can help beginners better prepare for their time on the slopes.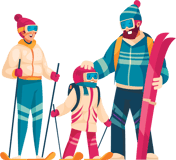 Ultimately mileage or time spent doing the sport is what will yield results
Preparation is integral for success to beginners.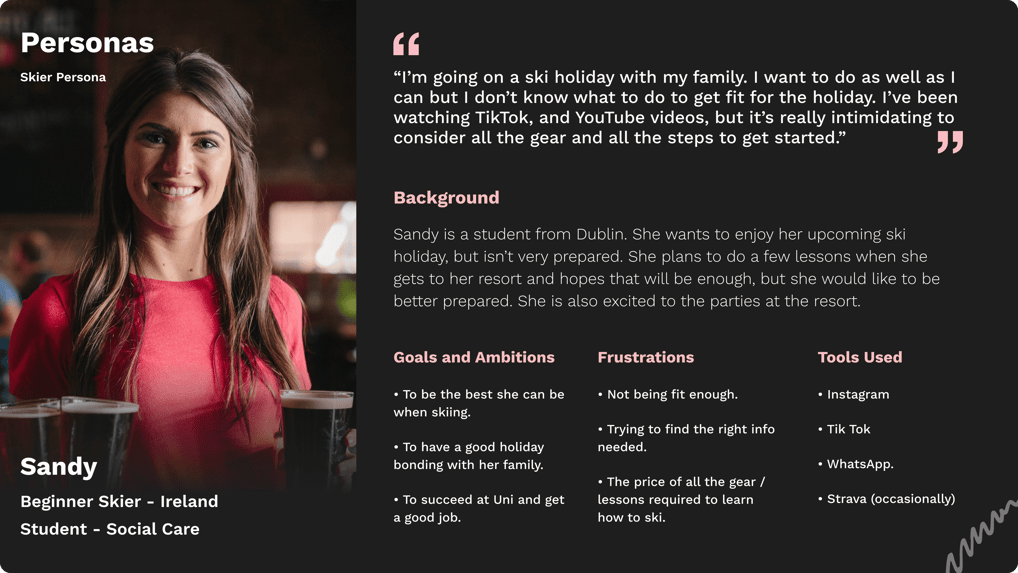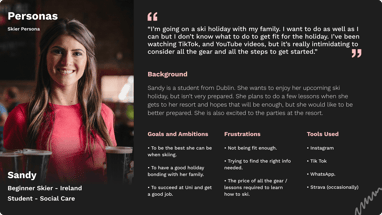 Based on the research I grouped the users into two cases;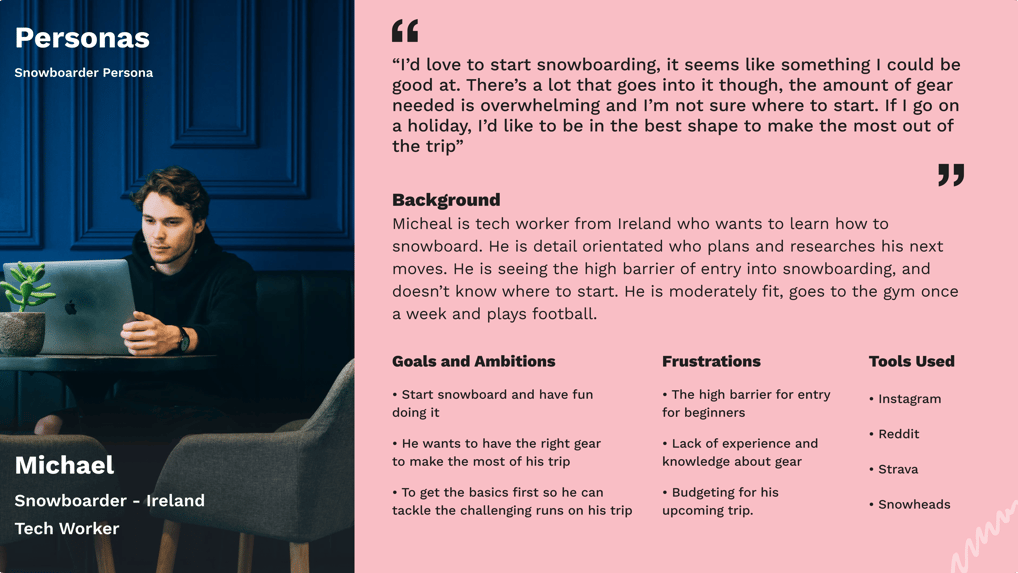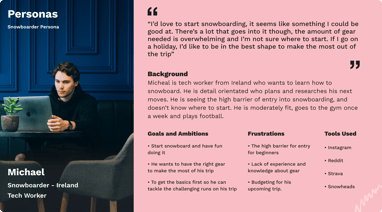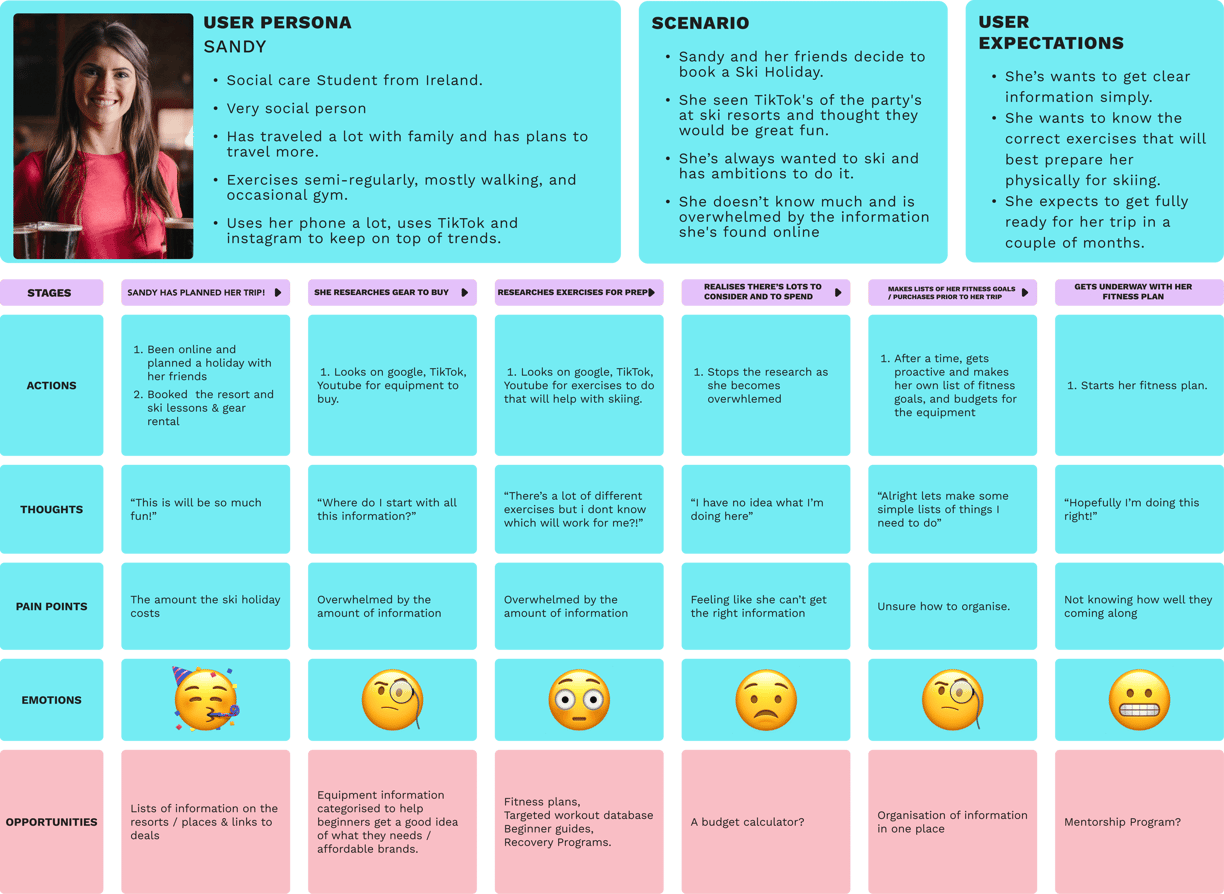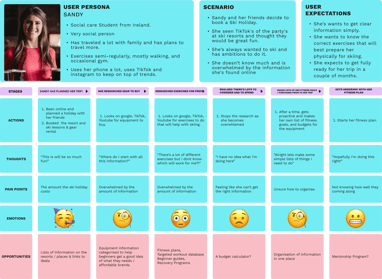 I also mapped out the current user journey as I found from my research;
The opportunities section outlines the possible areas where "Ye Are Here" can utilise the research done, and where John's initial feature ideas can place in the journey, as well as new ones learned via the interviewing and surveying process.
These opportunities could include;
A comprehensive list of travel destinations, with information on the snow sports activities, as well as links to deals.
Equipment information categorised to help beginners get a good idea of what they need / affordable brands.
Fitness plans, targeted workout database, beginner guides, recovery programmes.
John and Myself did an ideation session to flesh out further ideas and ways in which John could approach the solution which he could now design. We did exercises ranging from "Worst Possible Idea" to "How Might We?" and the "5 Why's?".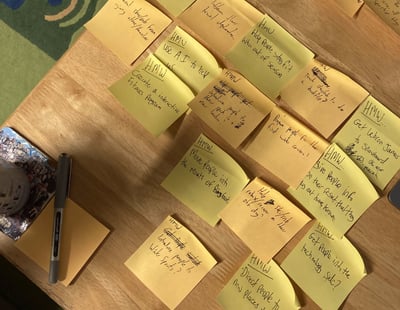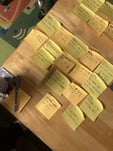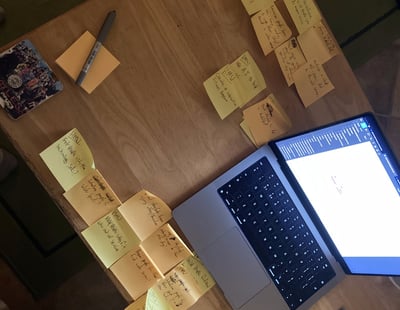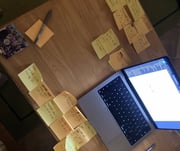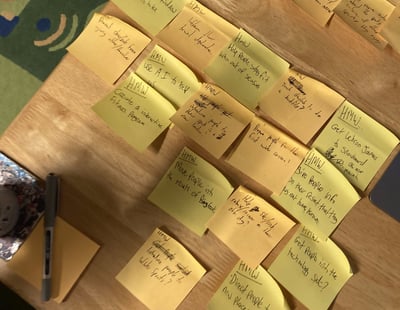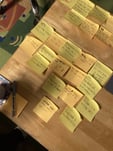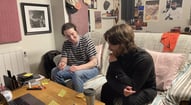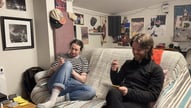 Upon completion of my research, I can now confidently recommend to John of "Ye Are Here" that his skills and knowledge of fitness plans, workout databases and travel information, among others, would be better suited niched down and catered to a user group that would benefit from greater guidance and resources, in this case beginner snowboarders and skiers.
As illustrated in my current user journey map, from the booking of a snow holiday, the current journey for users is full of overwhelming information and minimal guidance on how they can prepare for a trip.
Using John's skills, I believe he can consolidate them into a service which can be of great benefit to users looking to best approach their snow holiday and even use it as a spark for their fitness journey. There is also a space for a mentorship feature, and general organisation of information needed to best prepare users for their journey.
There were a few things I learned from this project;
You can start with one problem area / statement, and end with a different one.
Sometimes it will be difficult to talk with your target users, but you can adapt and find the next best group who understands them.
I got a lot more interviewing experience.
I learned to craft questions for two different user groups.
I refined my survey writing skills.